Shears & Ruban'- Fashion Research Poster Presentation at UIFT, PU
Chandigarh April 16, 2019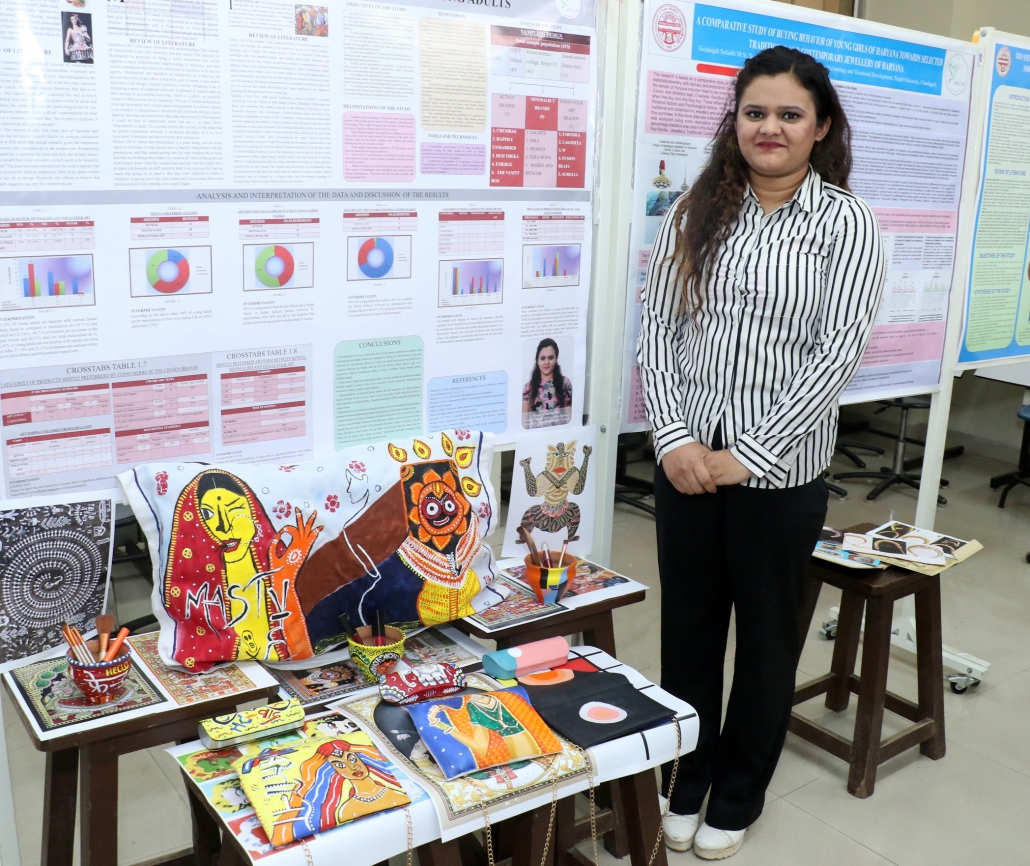 Research on Refusing Zippers, Menstrual Hygiene Knowledge and practice comparison, Preferences of Kitsch, Minimalism and Indian Folk Art- among award winners
Encompassing a wide variety of fashion related thrust areas- from social media impact on preference of brands by youngsters to impact of fashion advertising on audience, University Institute of Fashion Technology and Vocational Development (UIFT & VD), Panjab University hosted a thought-provoking poster display of MSc research work today. 
The students of MSc (IV) final semester presented their research dissertation work (of last two years) in the form of posters. An external jury comprising Prof. Suresh Sharma of Panjab University Statistics Department and Prof Sandeep Saijpal from Physics Department evaluated 21 research projects and announced best three research projects at an award ceremony in UIFT.  
Dr. Prabhdip Brar, UIFT, Chairperson said, "Shears and Ruban- our annual 
display of research work has turned out to be a success year after year. Initially incepted as annual design display only, it has now transformed into a wonderful platform to showcase the research work by MSc students. UIFT is moving strongly and swiftly towards becoming a leader in research work in the field of fashion and lifestyle."
 The MSc students have worked on a range of interesting topics from 
occupational health problems of Phulkari workers in Punjab, apparel preferences of transgender community, acceptance of handloom and textile products by Chandigarh residents, women empowerment through sequin work in Shahbad, among others to reusing the zippers.
The research work has been guided by Dr Prabhdip Brar, Dr. Rita Kant, Dr. Anu H Gupta, Dr. Avnish Kumar, Dr. Neha Miglani, Ms. Megha, Mr. Nikita, Ms. Parneet- faculty members and researchers at UIFT. 
Award Winners 
First Position- Ms. Poonam  Kumari (Mobile- 8054104701)
Title- Reuse Of Zippers Salvaged From Post Consumer Textile Work.
Supervisor- Dr. Rita Kant
Second Position- Ms.Vaishali  (7837177192)
Title- A Comparative Study of Knowledge 14and Practice of Menstrual Hygiene Among The 
Adolescent School Girls In Rural And Urban Areas.
Supervisor- Dr. Prabhdip Brar & Dr. Neha Miglani
Third Position- Ms. Ginnie  (7289056080)
Title- A Comparative Study Of Preferences Of Kitsch, Minimalism And Indian Folk Art 
Among Lifestyle Of Young Adults.
Supervisor- Dr. Avanish Kumar
https://news7world.com/wp-content/uploads/2019/03/s1.jpg
160
162
News 7 World
https://news7world.com/wp-content/uploads/2018/12/Untitled.jpg
News 7 World
2019-04-16 12:49:57
2019-04-16 12:50:00
Shears & Ruban'- Fashion Research Poster Presentation at UIFT, PU