He was addressing the 68th Annual Convocation of Panjab University of which he is the Chancellor, in Chandigarh today.
Chandigarh April 28, 2019

[UTF-8?]"Youth to adhere to the traditions of tolerance and respect and to protect our pluralistic [UTF-8?]culture"- Vice President of India
The Vice President of India, Shri. M. Venkaiah Naidu said
today that the youth of our nation must shoulder the greater social
responsibility of exercising judgement in looking at social issues. He
urged them to adhere to the traditions of tolerance and respect and
protect our pluralistic culture.
 He was addressing the 68th  Annual Convocation of Panjab
University of which he is the Chancellor, in Chandigarh today.
Shri.Naidu said that Panjab University had a glorious past and is one
of the oldest Universities in India, set in a land which has witnessed
centuries of civilisation & dedication to spreading knowledge in
ancient centres of learning like Takshila.
   He expressed his happiness at the [UTF-8?]University's relentless
quest for academic excellence and the rapid progress it has made in
providing quality education to its 15000 students enrolled in about
200 affiliated colleges, 3 regional centers, 6constituent colleges and
one rural center.
 The Vice President congratulated Panjab University for
having secured the 34th position among all academic institutions in
the nation, in the recent rankings under the National Institutional
Ranking Framework. He also applauded the [UTF-8?]University's focused effortstowards cultivating innovation and entrepreneurship among students. Iam very happy that the University has been recognized by the UGC asthe University with potential for excellence in Biomedical Sciences
with facilities for stem cell Research and Drug development, he added.

 The Vice President opined that Institution building is not
an easy task and added that it requires vision, passion, competence,
commitment, dedicated hard work and the ability to tap into the
infinite potential within individuals and a network of institutions.
He urged all stake holders of the Panjab University to keep up the
momentum of their good work and not let complacency set in.
Shri. Naidu affirmed that India of the future would be
powered by the dreams and ambitions, the character and competence of
young people. He stated that we will be able to fully realize the vast
demographic dividend in the years to come only if we can empower our
youth with the right skills and attitudes.

The Vice President proposed that we must rethink and
re-orient our educational system in the context of the twenty first
century when the concerns of ecology, of human welfare and the welfare
of the planet are equally imperative. It is possible only if we turn
our system around, including aspects of curriculum and evaluation,
towards critical  thinking, he said.

Observing that access to higher education has been
improved considerably in our country, Shri. Naidu said that we have to
focus upon raising the quality of education and ensuring that we offer
the best possible education to our young people.
 The Vice President suggested that we have to have
institutions which are continuously nourished by five important
streams of inquisitiveness, innovation, ethos that inspire
inspiration, integration  which encourages inter-disciplinary and
collaborative learning and an internalized value system, just like
Panjab which is irrigated by 5 rivers
 Shri Naidu also urged the youth of the nation to use the
means of communication that technology has provided, responsibly.  He
emphasized that these modern means of communication must be used to
facilitate social harmony and to cultivate a culture of healthy and
civilized discussion on many of the pressing problems such as class
and gender inequalities and the needs of the less privileged in
society. We need to address these problems with empathy and sincerity,
he added.
 The Vice President also extended felicitations to Dr. K.
Sivan, the Chairman of ISRO and one of our [UTF-8?]country's foremost space scientists who was being honored by Panjab University with the Vigyan Ratna Award. Dr. [UTF-8?]Sivan's outstanding work is an eloquent testimony of [UTF-8?]India's extraordinary capability in space science and technology, he said.
On the occasion, [UTF-8?]Hon'ble Chancellor, PU and Vice President
of India, Shri. M. Venkaiah Naidu conferred Vigyan Ratna Award to Dr.
K.Sivan, Chairman, ISRO and Secretary, Department of Space, Bangalore.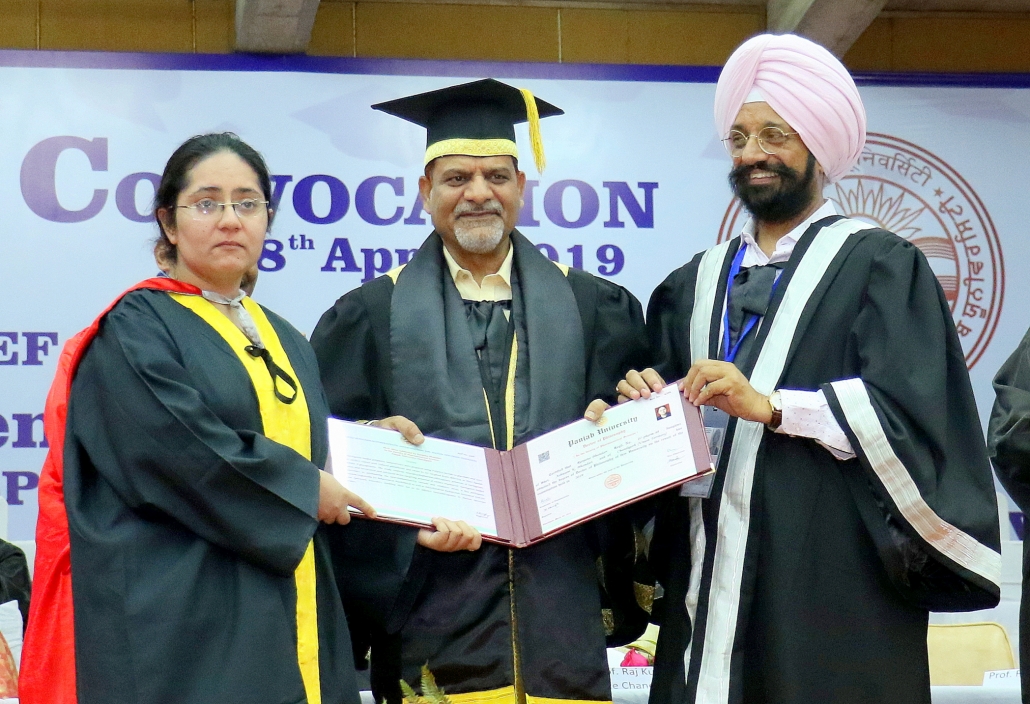 Prof. Raj Kumar, Vice Chancellor, PU in his address said
Panjab University remains a leader in its contribution towards
preparing the best minds in the service of the country by producing
outstanding scientist & academicians, jurists, philosophers, writers,
great statesmen, leaders, industrialists, and social workers.
Imparting education to thousands of students every year through its
vast campus, affiliated colleges, regional and rural centers, the
University is playing a significant role in fulfilling the dream of
[UTF-8?]'shikshit bharat, sashakt [UTF-8?]bharat.'
He further added that the University has expanded its
influence by 100+ functional MoUs globally. During the financial year
2018-19, agencies such as the UGC, DST, GOI and ICMR have granted
funding to 60+ projects worth more than Rs 21 crore. He informed that
the University has taken lead in strengthening Chandigarh Region
Innovation and Knowledge Cluster (CRIKC) and a gallery of over 50+
deliverables to bring all researches, patents and products on one
common platform is underway. This will showcase the contribution of
not only Panjab University but also of all research institutes of the
region while providing impetus to entrepreneurship and innovation
capabilities.
 Shri V.P.Singh Badnore, [UTF-8?]Hon'ble Governor of Punjab and
Administrator, UT. Chandigarh, was guest of honour.
Prof. Shankarji Jha, Dean of University Instruction and
Prof. Karamjeet Singh, Registrar, Prof. Parvinder Singh, Controller of
Examination, Sh. Vikram Nayyar, Finance & Development Officer, former
Vice Chancellors, PU fellows, faculty members and its affiliated colleges, PU Alumni, Ph.D holders, Post Graduates and Graduates were also present on the occasion.
 PU Ph.D. Degree awardees were from three other countries
like Iran, Mayanmar and , Thailand and 16 States of India. Punjab with
200 Doctorates led the tally of eligible Ph.D. degree awardees among
the states followed by UT, Chandigarh with 88, Haryana with 73 and
Himachal Pradesh with 65 students.
There were total 863 number of students bestowed with
degrees out of which 235 were males and 628 females.  491 students
were given Ph.D Degrees and 372 other than Ph.D. However, there were
291 number of students awarded with Merit certificates, medals and
cash prizes.
https://news7world.com/wp-content/uploads/2019/03/s1.jpg
160
162
News 7 World
https://news7world.com/wp-content/uploads/2018/12/Untitled.jpg
News 7 World
2019-04-29 09:12:50
2019-04-29 09:12:52
He was addressing the 68th Annual Convocation of Panjab University of which he is the Chancellor, in Chandigarh today.