Chandigarh April 24, 2019
Department of Defence and National Security Studies in collaboration with 
Gyan-Setu a Think Tank of Panjab University organized a one day seminar on "Abiding legacy of Maharaja Ranjit Singh" here today to commemorate the 550th birth anniversary of Shri Guru Nanak Dev ji.
Sh. VP Singh Badnore, Governor of Punjab and Administrator UT Chandigarh in his address, compared the reign of Sikhs with the reign of Bismark in the Germany, and talked about the history of Sikhs with the relations to the history of Rajputs in the Rajasthan and highlighted the key common points between them. He said that the Napoleon was the contemporary of Maharaja Ranjit Singh and the statecraft of the both 
were quite same and also said that Punjab being the Gateway to the Country had to bear the brunt of various invasions, as a result Punjab State produced warriors.He further added that Maharaja Ranjit Singh left an enduring legacy for successive generations. He was the first ruler to forge Punjabi identity across various faiths. As a secular and inclusive ruler, he combined principles of Meeri (Governance) with Peeri (Faith) in a commendable manner. 
 Prof. Raj Kumar, Vice Chancellor, Panjab University in his address talked 
about the life sketch of Maharaja Ranjit Singh and particularly about his army and his patronage into the arts, history and literature. He also highlighted about his contribution in building gurudwaras and temples. He said that Maharaja Ranjit Singh was the most secular ruler.
Earlier, Lt. Gen. K.J. Singh while welcoming the guests, introduced the theme of the seminar and how that theme got developed. He elaborated that the theme was transition of Sikhs from Baba Nanak to Maharaja Ranjit Singh. He further added that Punjab of Maharaja Ranjit Singh included more than 50% of Muslims of Punjabi descent that shows the true secular way of his State, he talked about the sense of inclusion that Maharaja had that was inherited from the Sikh Gurus and other Sikh intellectuals 
as well.
Prof. Indu Banga, Prof. Emeritus, the keynote speaker of the day talked about Sikh history studies, as well as of the history of Punjab. She started from the beginning of Sikh religion and traced it to reign of Maharaja Ranjit Singh. She talked about the transition of Sikh religion, from Guru Nanak Dev to Maharaja Ranjit Singh. Starting from Guru Nanak she told about the spiritual dimension of the Sikh religion and the chief transition happened from the Guru Arjun Dev from which the Sikh Religion transformed into a religion of protectors. She told about the resistance of Sikhs against Mughals which made them a Martial Race and after the last guru Shri Guru
Gobind Singh, Maharaja Ranjit Singh continued that legacy, the Statecraft of Maharaja was based on the teachings of Sikh religion and it was the kind of Kingdom where people of all faiths lived in peace. He was the one who really cultivated Punjabi sentiments during his reign he never plundered wealth and ornaments of women. Guru Gobind Singh prepared a manual which shows what are do's and don'ts for Sikh.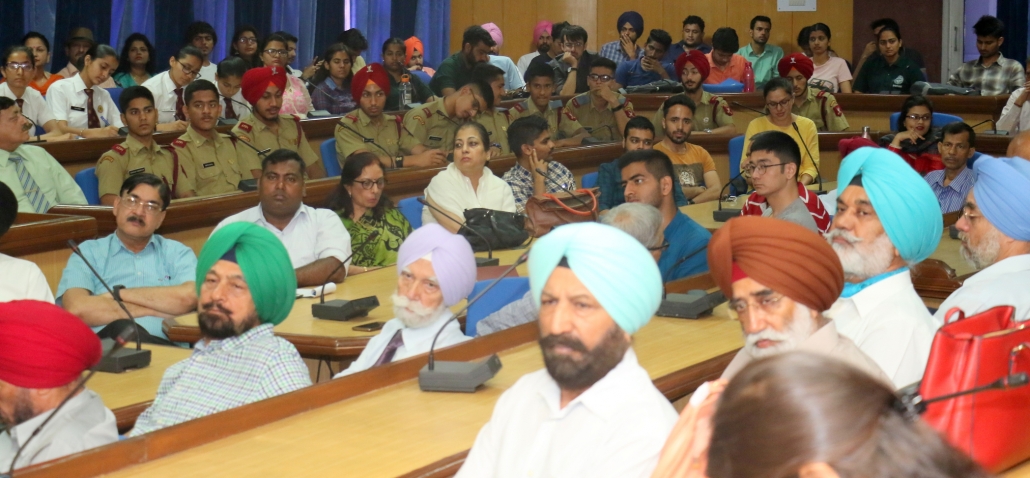 Lt. Gen. Surinder Singh called Maharaja Ranjit Singh as one of the foremost 
Sikh Emperor, he said that he (Ranjit Singh) had legacy of its own by constructing great infrastructure and encourage education and build a great empire. He became part of folklores in Punjab. He gave a few anecdotes and small stories about Maharaja Ranjit Singh.
Dr Jaskaran Singh Waraich, Cchairperson, Department of Defence and National Security Studies, PU gave the vote of Thanks in the end of the Inaugural Session.There were speakers who discussed about the legacy which all Sikh gurus and Maharaja Ranjit Singh carried forward from Baba Nanak to the time period of Maharaj Ranjit Singh.
TECHNICAL SESSION I Transition of Sikh from Baba Nanak Dev to Maharaja Ranjit Singh.
Guru Nanak Dev was greater admirer of Baba Farid and Sant Kabir. He believes that god is one. Communalism has no space in his thinking. Baba Nanak said that we should serve people to serve god and meditation is the key to peaceful living. He talked about his thinking on religious and social matters. He was popularly known as sher-e- Panjab. And also give beautiful interpretation of various life instances of Maharaja Ranjit Singh, also 
talked about the policy of Sikh misals. And much of the literature related to him was missed because it was all in Persian. His focus was on the human resource development. He also highlighted that Gurumukhi is the legacy of Guru Nanak Dev and with-it Guru Nanak empowered Punjabis. 
TECHNICAL SESSION II Lessons in security and military domains were discussed in seminar. Speakers talked about the military of Maharaja Ranjit Singh and what modernisation was there in his military.
https://news7world.com/wp-content/uploads/2019/03/s1.jpg
160
162
News 7 World
https://news7world.com/wp-content/uploads/2018/12/Untitled.jpg
News 7 World
2019-04-24 12:56:44
2019-04-24 12:56:47
Seminar on "Abiding legacy of Maharaja Ranjit Singh' held at PU